While it's true that there is proverbial dust on my blog, it definitely hasn't done anything to curb my love of shopping. In fact, I've done quite a bit of damage over the last two months. Yet, amazingly I'm still (mostly) within my budget.
A good majority of my shopping haul has come from the Gap. I blame it on two things.
1) Groupon which lured me back into their store in the first place.
2) Their newly launched Canadian online shopping site.
With regards to number two, I was surprised to see how good the prices were. The prices were much better in fact than the US counterpart. Also, I was a huge online shopper back when I lived in the States, but the number of online retailers in Canada is a fraction of what it was in the US. Not to mention, I refuse to ship across the border -- the thought of paying exorbitant amounts of duty and brokerage fees and shipping freak me out. Well, one click of the submit button on Gap Canada and I was back in business. I had actually forgotten how EASY it is to shop online. Almost too easy...
Just take a look at the damage:
Okay, so maybe the last two are from Old Navy. They are actually my least exciting purchases, and I'm mostly keeping them because I think they'd make awesome sundresses from my upcoming Mexican vacation. Plus, they make up the three "C"s - cheap, comfy and cute.
Now the rest of the stuff, I am pretty stoked over. I've had my eye on the sunburst ruffle dress ever since I saw it on
Rosa
. The purple version of it actually came in my second order, once I realized just how awesome that dress was. Plus, it came up to 22 dollars and some change.
I also discovered about six months ago, that Gap jeans fit me perfectly. No exaggeration. So they are my go-to place for all jeans, and have since taken my money for (after the October order) four pairs of perfect fitting denim.
Then of course, the Gap baited me back into the store by giving me the 40% Wednesday coupons while I was innocently buying Maya some clothes from Baby Gap. This prompted me to come into the store on two separate Wednesdays to buy these: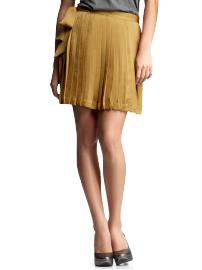 While I love the shirt (who can resist stripes and a cowlneck), the verdict is still out on the skirt. I think I chose it mainly for the gorgeous colour. And while I love the knife pleats in theory, I'm just not sure I love the shape of it on me.
What are your thoughts on the skirt? Likey or no-likey?