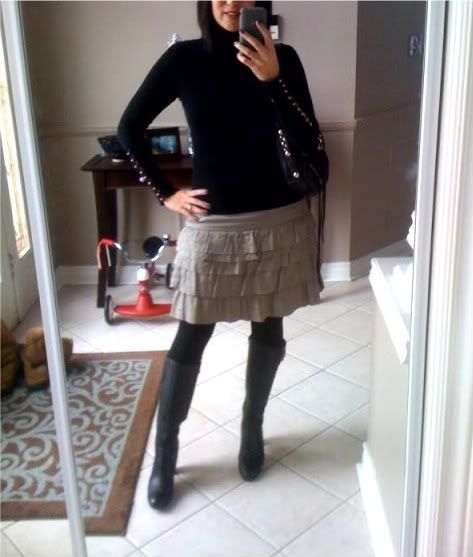 Outfit Details:
sweater - Beth Bowley, skirt - Old Navy, tights - Banana Republic, boots - Franco Sarto, bag - Botkier
Hello 2010! I'm optimistic that this will be a great year. My number one new year's resolution is to resurrect my career. I'm already on road with that. I've changed my SAHM status to a WAHM status by securing a work-from-home contracting position in technology (Ruby on Rails). I've taken contracts in the past after having Maya, but none since moving back to Canada. It feels good to flex my muscles again. I hadn't realized how much I missed and enjoyed working. Much thanks to my MIL, my Dad and his girlfriend for all the babysitting so that I could go back to work. I love you all!
Since I've added this new role to my repetoire, I've still getting a handle on juggling my old responsibilities with the new. And unfortunately, blogging has fallen a little bit to the wayside the last week. I'll try not to make this a habit since I really do enjoy this creative outlet.
Sorry for the terrible picture. I have temporarily misplaced my camera so I had to make do with an iPhone photo of yesterdays outfit. This is one of my favourite sweaters and I've had it for at least five years now. It's a pointelle knit with sweet little rows of buttons down the cuffs and the neckline (which didn't show up in the picture very well). I hadn't worn it for over a year because new favourites kept taking it's place as I got dressed in the morning. Well, I felt fabulous in this outfit, so expect to see this sweater back in rotation again.