If I've been quiet, it's because I and the entire family have gotten sick again. And just to add some extra fun, we have staggered our colds so that it hit us all a few days apart -- Me on Sunday, Maya on Wed, Mo on Friday. Luckily we are all on the mend.
I've been on a shopping ban since mid-December and am proud to say that I've been a very good girl about it. Since the weather turned nicer, I've been dying to get out and do a little shopping. Well as my reward for being so good, I was given a small sum to spend on what I wished. I have to admit... I had so much fun. It just feels so decadent to buy something new for yourself. Since then, I have been successfully squashing the urge to shop again. I burned through all my fun cash/gift card, and I must resist the slippery slope back into over-consumption...
Ever since I saw
this picture
in the Sartorialist, I have dying for a skirted coat. Well, I happened to wander into H&M and spotted a skirted trench on the mannequin in the window. I rushed straight in, and low and behold... here was the spring coat I was looking for and... it was 50% off! Ahhh, serendipity.
Last weekend it was beautifully sunny and warm, which gave me just the chance to break out my new trench. I really loved how the cotton skirt peeks out from underneath the trench. I added a bright bag for a springlike pop of colour, and the teal of the top is actually brighter in real life.
trench - H&M
skirt - Banana Republic
top - Philippe Adec
shoes - Steve Madden
On Tuesday, it was such a beautiful day that we drove to Niagara-on-the-Lake with my mother-in-law. We spent a beautiful day wandering around the downtown district, dotted with little boutiques, had lunch and took Maya to the playground there (or should I say... Maya took us there as soon as she spotted the swings). I was feeling pretty crappy by lunchtime, but I didn't want to spoil anyone's fun and sucked it up like a good mother/wife/daughter-in-law. I paid for it later that night as I collapsed into bed with a bottle of Nyquil.
The jeans are a little long (hemmed for heels), but I refuse to buy any new ones until I lose the last of the baby weight.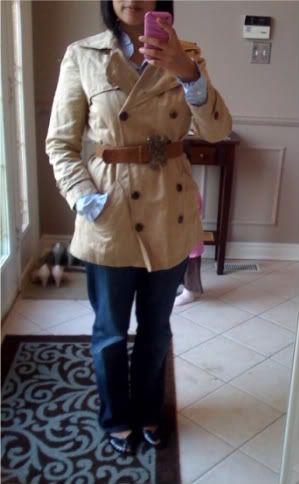 trench and belt - Gryphon
shirt - J. Crew
jeans - Joe's
shoes - Loeffler Randall for Target