Ever since I discovered there was a Value Village about a 10 minute drive from my house, I've been itching to go check it out. My SIL used to go there every so often, and come back with wonderful vintage finds that made me green with envy. I'm not an experienced thrift store shopper, and have only been to one store in fact… Housing Works in NYC. It's a great store, but I'm sure not one that hardcore thrifters visit often. The prices do tend to be a little high, but I've always rationalized my purchases since all proceeds go to charity.
Mo was kind enough to take Maya for a few hours to a nearby bookstore so that I could peruse Value Village. The experience turned out to be a little different than I had expected. It was much bigger and more organized for one — akin to shopping at TJMaxx (for the Americans) or Winners (for my fellow Canadians). I was eager to check out the coat section, imagining stumbling across a vintage swing coat or 60s cape. Unfortunately, the only thing I found were oversized coats covered in lots of pet hair. My allergies seized up immediately and I had to retreat. I bypassed shoes (not for the novice thrift shopper I'm sure), and stopped by bags (pleather city), blazers (eh), dresses (graveyard of 90s sundresses…in fact, I found one identical to a dress I used to have but donated!) and then skirts. Ah skirts… I always seem to do well in the skirt section of thrift stores, and found a couple lovely vintage wool ones. My favourite was a purple pencil skirt, but my hips were too big for it. In the end, I took home a lovely cream high waisted skirt. It just needs a little hemming to be perfect.  (Sorry for the wrinkles.  I should have hung the skirt when I got home.)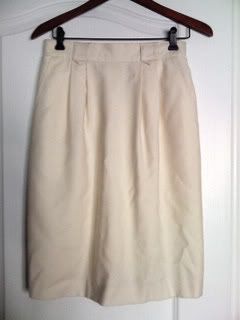 Next I headed to blouses, where all of a sudden, I felt like I was going to find something really good. My hunch was correct. I found this lovely blouse… it has wonderful pleats and details, but the print was a little loud (hello - gold threading!). I took it home anyway because I was sure I could make it work.  After all, a loud shirt isn't so loud underneath a dress or sweater…
My only other find was a very cool black belt. It's exactly what I've been looking for to add a little jazz to some of my plainer dresses.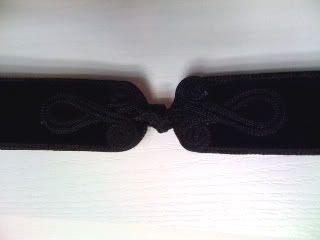 In the end, my shopping experience wasn't as fruitful as I hoped (aka not a vintage gold mine). But what I did find is enough to bring me back there again. It was a nice diversion for 1 1/2 hours and only cost me to break my shopping ban by $15. Not bad!