I just spent the last 10 minutes browsing different online retail sites (uh oh!).  I've noticed that the first area of the site I will click on first is "dresses".  Yes, I am a dress addict!  Is there really such thing as too many?  I adore dresses because (1) it always looks polished (2) it shows off my best feature - legs (3) as a stay-at-home-mom, it makes such an effortless outfit -- dress, shoes or boots and voila... instant chic!
I've been loving some of the things Forever 21 has been releasing lately.  These three dresses in particular caught my eye.
The first is a cute little black/white number.   I love the ruffle detail down the front placket and the high prim collar.  I also love the trend of having a dress that looks like two separate pieces.  It makes it easier to dress (one piece!) and solves the annoying problem of a shirt becoming untucked.  If this dress were short sleeved, rather than sleeveless, it would be perfect.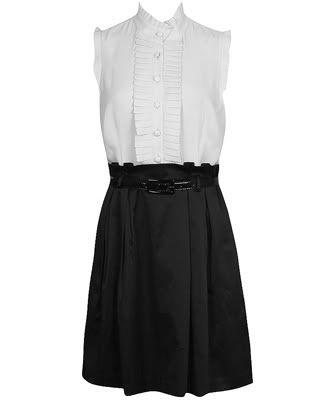 This dress has the same idea as the first, with the attached skirt and top... and I love the extra chunky embellishment around the neck.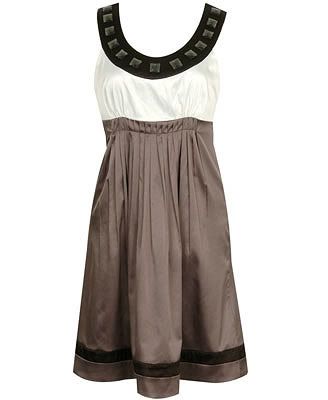 Finally, I think this dress is so adorable.  It is so simple and clean lined, and then bang... girly unexpected bow right at the collarless neckline.  Unfortunately, the colour doesn't look the best on me and it's also a little too cutesy for me (of age 30-something) to pull off.  If I did attempt to wear it though, I would pair it with a simple clutch and sky high heels to negate the cutesy factor.